Product Description
Flexible Spider Jaw Coupling High Torque for Mask Machine Shaft Coupling CNC Flexible Plum Coupling Servo Motor
Product Description
Mighty can produce full series of Tyre Coupling;The purpose of the coupling is to connect 2 shafts of different mechanisms (the driving axis and the driven axis) to rotate together and transfer torque.
JC 14-S: OD:14   Setscrew type
JC 14-C: OD:14   Clamp type
Material: Aluminum or  steel;
ore type: Finished Bore/Stock Bore;
Features: Coupling assembled by pressing a polyurethane sleeve into hubs on both sides
                Could absorb the vibration,parallel,angular misaligneents and shaft end-play
                Resistance to oil and electrical insulation
                Ldentical clockwise and anticlockwise rotational chaaracteristics
                Three different hardness sleeves are availabie
Other Type of Couplings:
Company Information
MIGHTY, a brand belongs to SCMC Corp. which is a wholly state-owned enterprise established in 1980, is specialized in producing precision mechanical power transmission products. After years of hard work, Mighty has already got the certificate of ISO9001:2000 and become a holding company of 3 manufacturing factories.
 
Mighty's products are mainly exported to Europe, America and Middle East market. With the top-ranking management, professional technical support and abundant export experience, Mighty has established lasting and stable business partnership with many world famous companies and has got good reputation from CZPT customers in international sales.
 
Equipment: sawing machine, CNC Lathe, drilling machine, hobbing machine, punch machine, milling machine, gear shaper, grinding machine, machining center, etc.
Trade Show: PTC Asia, Canton Fair, Hannover Messe, IFPE
Main Products:
Timing belt pulleys, timing bars, timing belt clamping plates.
Locking elements and shrink discs: could be alternative for Ringfeder, Sati, Chiaravalli, BEA, KBK, Tollok, etc.
V belt pulleys and taper lock bush.
Sprockets, idler, and plate wheels.
Gears and racks: spur gear, helical gear, bevel gear, worm gear, gear rack.
Shaft couplings: miniature coupling, curved tooth coupling, chain coupling, HRC coupling, normex coupling, FCL coupling, GE coupling, rigid and flexible coupling, jaw coupling, disc coupling, multi-beam coupling, universal joint, torque limiter, shaft collars.
Forging, Casting, Stamping Parts.
Other customized power transmission products and Machining Parts (OEM).
Application
1. Engineering: machine tools, foundry equipments, conveyors, compressors, painting systems, etc.
2. Pharmaceuticals& Food Processing: pulp mill blowers, conveyor in warehouse, agitators, grain, boiler, bakery machine, labeling machine, robots, etc.
3. Agriculture Industries: cultivator, rice winnower tractor, harvester, rice planter, farm equipment, etc.
4. Texitile Mills: looms, spinning, wrappers, high-speed auto looms, processing machine, twister, carding machine, ruler calendar machine, high speed winder, etc.
5. Printing Machinery: newspaper press, rotary machine, screen printer machine, linotype machine offset printer, etc.
6. Paper Industries: chipper roll grinder, cut off saw, edgers, flotation cell and chips saws, etc.
7. Building Construction Machinery: buffers, elevator floor polisher mixing machine, vibrator, hoists, crusher, etc.
8. Office Equipments: typewriter, plotters, camera, money drive, money sorting machine, data storage equipment, etc.
9. Glass and Plastic Industries: conveyor, carton sealers, grinders, creeper paper manufacturing machine, lintec backing, etc.
10. Home Appliances: vacuum cleaner, laundry machine, icecream machine, sewing machine, kitchen equipments, etc.
FAQ
Q: Are you trading company or manufacturer ?
A: We are factory.
Q: How long is your delivery time?
A: Generally it is 5-10 days if the goods are in stock. or it is 15-20 days if the goods are not in stock, it is according to quantity.
Q: Do you provide samples ? is it free or extra ?
A: Yes, we could offer the sample for free charge but do not pay the cost of freight.
Q: What is your terms of payment ?
A: Payment=1000USD, 30% T/T in advance ,balance before shippment.
If you have another question, pls feel free to contact us as below:
Contacts
We warmly welcome friends from domestic and abroad come to us for business negotiation and cooperation for mutual benefit. To supply customers excellent quality products with good price and punctual delivery time is our responsibility.
Any question or inquiry, pls contact us without hesitate, we assure any of your inquiry will get our prompt attention and reply!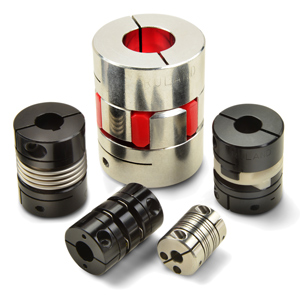 Accommodating Varying Torque and Speed Requirements with Servo Couplings
Servo couplings are versatile components designed to accommodate varying torque and speed requirements in different applications. Their ability to transmit torque while compensating for misalignment makes them suitable for a wide range of motion control systems. Here's how servo couplings can accommodate varying torque and speed requirements:
Torque Capacity:

Servo couplings come in various designs and materials, each with its unique torque capacity. By selecting the appropriate coupling type and material, you can match the coupling's torque capacity to the requirements of the application. For higher torque applications, steel or stainless-steel couplings are preferred, while aluminum or plastic couplings may suffice for lower torque applications.

Misalignment Compensation:

In motion control systems, shaft misalignment can occur due to various factors. Servo couplings can compensate for angular, parallel, and axial misalignments, ensuring smooth operation even when the shafts are not perfectly aligned. This feature helps prevent excessive stress on the coupling and the connected components, making them suitable for applications with varying misalignment conditions.

Dynamic Response:

High-speed motion control systems often require a coupling with excellent dynamic response characteristics. Flexible couplings, such as bellows or elastomeric couplings, can handle rapid changes in speed and direction, providing the necessary flexibility for dynamic applications.

Damping and Vibration:

Some applications may experience vibrations or shocks during operation. Servo couplings made of materials like elastomers or plastics can act as vibration dampeners, reducing the impact of shocks and vibrations on the system.

Customization:

In certain cases, off-the-shelf servo couplings may not fully meet the specific torque and speed requirements of a particular application. In such situations, manufacturers may offer customized servo couplings tailored to the application's needs, providing a solution that precisely matches the system's requirements.
Overall, servo couplings are designed to be adaptable and flexible, making them suitable for a wide variety of torque and speed requirements in different motion control applications. Proper selection and installation of the right type of servo coupling can significantly contribute to the overall efficiency, performance, and longevity of the motion control system.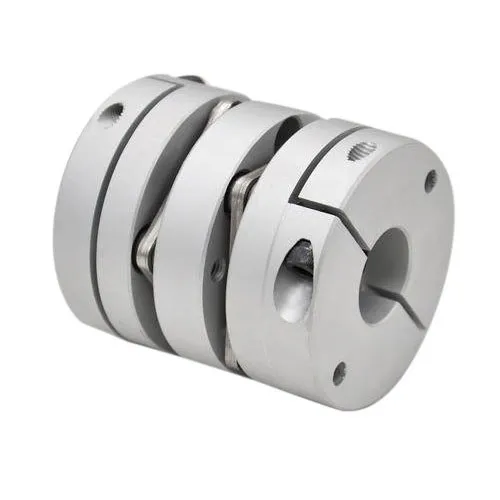 Specialized Servo Couplings for Harsh Environments and Corrosive Conditions
Yes, there are specialized servo couplings specifically designed for use in harsh environments or corrosive conditions. These couplings are engineered with materials and features that provide enhanced durability and resistance to environmental factors. Here are some types of specialized servo couplings for such conditions:
Stainless Steel Servo Couplings: Stainless steel couplings are highly corrosion-resistant and suitable for applications where exposure to moisture, chemicals, or corrosive substances is a concern. They offer excellent performance in harsh and corrosive environments.
Plastic Servo Couplings: Plastic couplings, made from materials like polyurethane or PEEK, are resistant to corrosion and chemicals. They are ideal for applications that involve exposure to aggressive substances and where metallic couplings may not be suitable.
Hermetic Sealing: Some servo couplings come with hermetic sealing, providing an airtight and watertight enclosure. These couplings are used in environments where ingress of dust, moisture, or other contaminants must be prevented.
Coated Surfaces: Certain servo couplings feature coatings like zinc, nickel, or chrome to provide an additional layer of protection against corrosion and wear. These coatings can extend the lifespan of the coupling in demanding environments.
Non-Metallic Elements: Specialized servo couplings may use non-metallic elements, such as composite materials, to improve corrosion resistance while maintaining flexibility and torque transmission capabilities.
When selecting a servo coupling for harsh environments or corrosive conditions, it's essential to consider factors like the specific corrosive agents, operating temperature, and the coupling's compatibility with the application requirements. Using the right specialized servo coupling can ensure reliable and long-lasting performance in challenging industrial settings.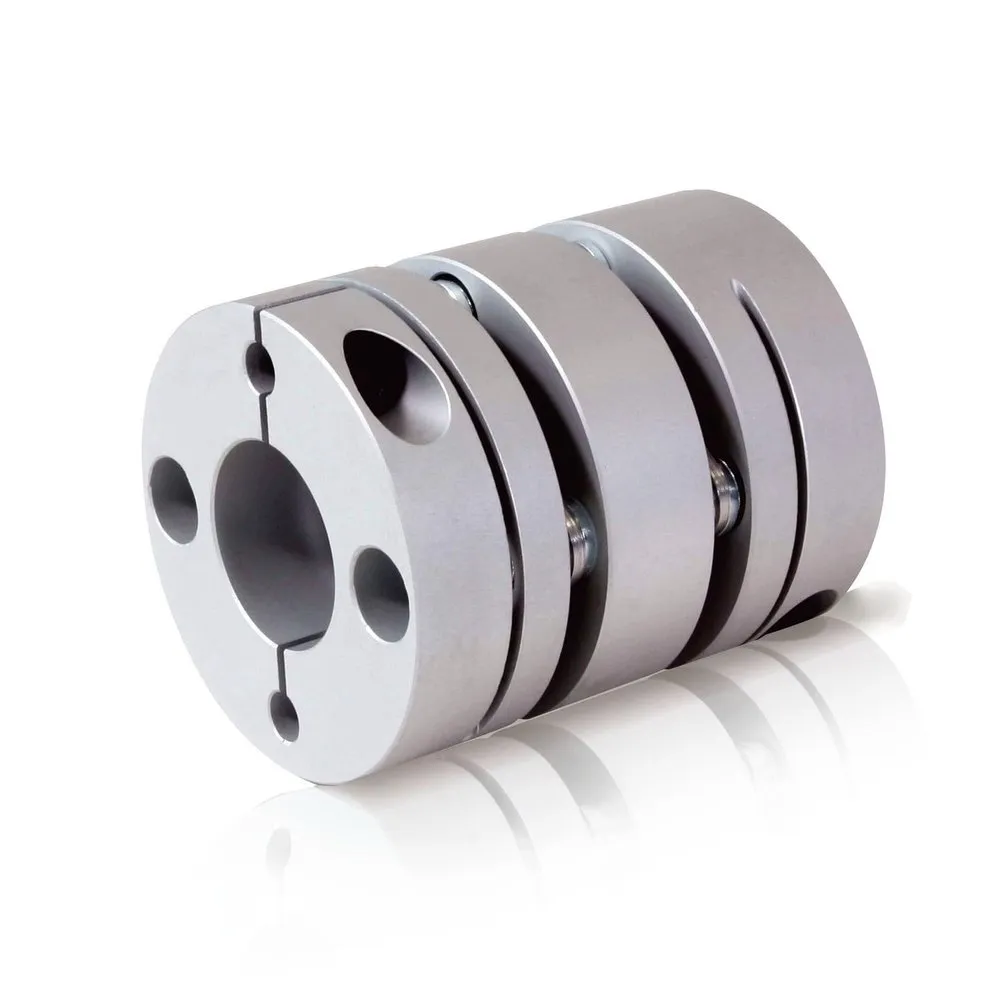 Differences between Rigid, Flexible, and Beam-Type Servo Couplings
Servo couplings come in various designs to suit different motion control applications. Here are the key differences between rigid, flexible, and beam-type servo couplings:
Rigid Servo Couplings:

Rigid servo couplings do not have any flexibility or movable parts.
They provide a solid and direct connection between the servo motor shaft and the driven load.
These couplings offer excellent torque transmission with minimal backlash.
Rigid couplings are suitable for applications where precise alignment between the motor and load is achievable.
They are commonly used in systems that require high torque transmission and minimal motion losses.
However, rigid couplings cannot compensate for misalignments, making them sensitive to any shaft misalignment, which may cause premature wear and reduce system lifespan.

Flexible Servo Couplings:

Flexible servo couplings are designed to accommodate misalignments between the motor and load shafts.
They have a certain degree of flexibility, allowing them to bend or deform slightly to compensate for angular, axial, and parallel misalignments.
Flexible couplings offer improved misalignment compensation compared to rigid couplings.
They help reduce stress on bearings and other sensitive components, increasing the system's reliability and lifespan.
Flexible couplings are suitable for applications with moderate misalignments and where some level of damping or vibration absorption is required.
However, flexible couplings may introduce some backlash and have lower torsional rigidity compared to rigid couplings.

Beam-Type Servo Couplings:

Beam-type servo couplings are a subtype of flexible couplings and are known for their helical beam design.
They offer multi-directional flexibility, allowing them to handle angular, axial, and parallel misalignments.
Beam couplings provide excellent torsional stiffness, making them ideal for high-speed and high-precision applications.
These couplings have low inertia, reducing the impact on the motor's acceleration and deceleration capabilities.
Beam-type couplings are commonly used in applications that require both precise motion control and flexibility for misalignment compensation.
However, beam couplings have limited torque capacity compared to some other flexible coupling designs.
Choosing the right servo coupling depends on the specific needs of the motion control system. Rigid couplings are ideal for applications with perfect alignment, while flexible and beam-type couplings are suitable for applications with misalignments and where damping, vibration absorption, and motion control precision are critical.



editor by CX 2023-08-15