Product Description
GW Type Coupling Rigid Shaft Servo Shaft Coupling GW-26X44.5

GW Type Coupling Rigid Shaft Servo Shaft Coupling GW-26X44.5

| | | | | | | | | |
| --- | --- | --- | --- | --- | --- | --- | --- | --- |
| model parameter | common bore diameter d1,d2 | ΦD | L | LF | LP | d3 | S | tightening screw torque(N.M) |
| GW-19X34 | 3,4,5,6,6.35,7,8 | 19 | 34 | 9.1 | 5.2 | Φ9 | 1.8 | 1 |
| GW-26X44.5 | 5,6,6.35,7,8,9,9.525,10,11,12,14 | 26 | 44.5 | 11.65 | 6.5 | Φ12.5 | 2.6 | 1.5 |
| GW-32X54 | 5,6,6.35,7,8,9,9.525,10,11,12,12.7,14,15, | 32 | 54 | 12.25 | 9.5 | Φ15 | 3.5 | 1.5 |
| GW-34X58 | 5,6,6.35,7,8,9,9.525,10,11,12,12.7,14,15,16 | 34 | 58 | 14.25 | 9.5 | Φ16 | 3.5 | 2.5 |
| GW-39X65.5 | 8,9,9.525,10,11,12,12.7,14,15,16,17,18,19 | 39 | 65.5 | 14.9 | 11.2 | Φ19.3 | 4.5 | 2.5 |
| GW-44X65.5 | 8,9,9.525,10,11,12,12.7,14,15,16,17,18,19,20,22,24 | 44 | 65.5 | 14.9 | 11.2 | Φ22.5 | 4.5 | 2.5 |
| GW-50X80 | 8,9,9.525,10,11,12,12.7,14,15,16,17,18,19,20,22,24,25 | 50 | 80 | 20.6 | 12.2 | Φ23 | 4.8 | 7 |
| GW-56X83 | 10,12,14,15,16,17,18,19,20,22,24,25,28,30,32 | 56 | 83 | 19.75 | 13.5 | Φ32.5 | 5.5 | 7 |
| GW-68X97 | 12,14,15,16,17,18,19,20,22,24,25,28,30,32,35,38 | 68 | 97 | 23.35 | 15.7 | Φ38.3 | 6.3 | 12 |
| GW-82X128 | 17,18,19,20,22,24,25,28,30,32,35,38,40,42 | 82 | 128 | 30 | 22 | Φ45.5 | 8 | 20 |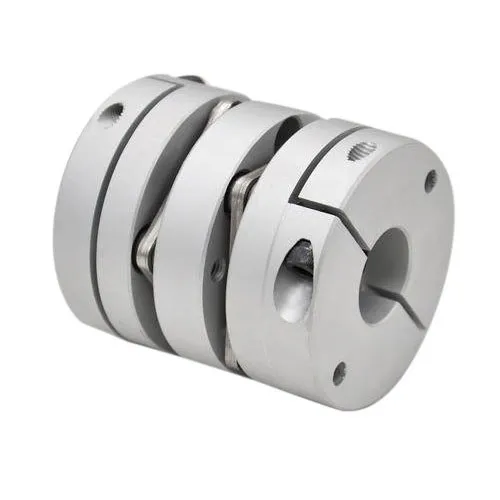 Thermal Considerations and Limits for Continuous Operations with Servo Couplings
Servo couplings, like many mechanical components, can experience temperature changes during continuous operation. It is essential to consider thermal factors and establish temperature limits to ensure the proper functioning and longevity of the couplings. Here are the key thermal considerations and limits:
Temperature Ratings:

Manufacturers provide temperature ratings for servo couplings, indicating the range of temperatures in which the couplings can operate safely. It is crucial to stay within these specified temperature limits to prevent potential damage to the coupling or its connected components.

Heat Dissipation:

Servo couplings may generate heat during operation due to friction and torsional loads. The ability of the coupling to dissipate heat effectively helps prevent excessive temperature rise. Choosing a coupling with suitable materials and design can improve heat dissipation.

Continuous vs. Intermittent Operation:

Servo couplings may have different thermal limits for continuous operation compared to intermittent or start-stop operations. It is essential to ensure that the coupling's temperature ratings are suitable for the application's specific mode of operation.

Environment:

The operating environment can also impact the thermal performance of the servo coupling. High ambient temperatures, confined spaces, or inadequate ventilation can elevate the temperature around the coupling, potentially pushing it beyond its limits.

Lubrication:

Proper lubrication of the coupling's components can help reduce friction and heat generation. Using the right lubricant and ensuring regular maintenance can contribute to the coupling's optimal thermal performance.

Thermal Expansion:

Thermal expansion of materials can lead to dimensional changes in the coupling. If not accounted for, this expansion can cause misalignment or interference with other components. Understanding the thermal expansion properties of the coupling materials is crucial for precise system design.

Overheating Prevention:

To prevent overheating, monitoring the coupling's temperature during continuous operations is advisable. Implementing temperature sensors or thermal monitoring systems can help detect abnormal temperature increases and trigger appropriate actions, such as reducing operating speeds or shutting down the system temporarily.

Material Selection:

Choosing materials with appropriate thermal properties is vital for withstanding continuous operations. Some materials are more resistant to high temperatures and thermal cycling, making them suitable for applications with demanding thermal conditions.
By considering these thermal considerations and adhering to the specified temperature limits, users can ensure that servo couplings operate reliably and efficiently during continuous operations, avoiding potential failures and ensuring the longevity of the motion control system.
Considerations for Selecting Servo Couplings in High-Speed Applications
High-speed applications present unique challenges that require careful consideration when selecting servo couplings. Here are specific factors to keep in mind:
Torsional Stiffness: In high-speed applications, torsional stiffness is crucial to ensure rapid response and accuracy. A coupling with sufficient torsional stiffness reduces torsional deflection and maintains precise motion control even at high speeds.
Dynamic Balance: High-speed operation can magnify any imbalances in the servo system. Choosing a servo coupling with dynamic balance helps minimize vibration and prevents excessive wear on the motor and bearings.
Material Selection: The material of the servo coupling should be carefully chosen to withstand the high rotational speeds and avoid resonance issues. Consider materials with high strength, low inertia, and excellent fatigue resistance to ensure reliability in high-speed applications.
Backlash: High-speed systems require quick changes in motion direction. Selecting a zero-backlash coupling reduces the chances of sudden impacts and vibrations due to backlash, ensuring smooth and accurate motion.
Inertia: The inertia of the servo coupling should be minimized to reduce the system's overall inertia and allow for rapid acceleration and deceleration without sacrificing performance.
Temperature Resistance: High-speed operation can generate heat, so the chosen coupling should have good temperature resistance to prevent premature failure or deformation.
Bearing Loads: Consider the loads exerted on the motor and driven load bearings at high speeds. The coupling should be capable of handling these loads without causing excessive wear on the bearings.
Installation and Alignment: Proper installation and alignment of the servo coupling are critical in high-speed applications. Ensure precise alignment to avoid introducing additional stresses and misalignments that can compromise system performance.
Service Life and Maintenance: Evaluate the expected service life of the servo coupling under high-speed conditions and consider the maintenance requirements to ensure long-term reliability.
By considering these specific factors, engineers can select the most suitable servo coupling for high-speed applications, optimizing performance, accuracy, and efficiency while minimizing wear and vibration issues.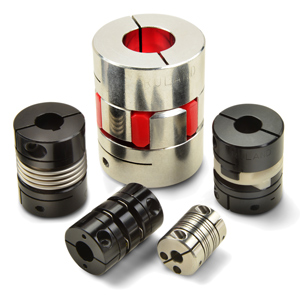 What is a Servo Coupling, and Its Role in Servo Motor Systems
A servo coupling is a specialized type of coupling used in servo motor systems to connect the servo motor shaft to the driven load. Servo motor systems are widely used in various industries for precise motion control applications, where accuracy, speed, and torque control are crucial. The servo coupling plays a vital role in ensuring the efficient transfer of motion and torque from the servo motor to the driven load while compensating for misalignments between the motor and load shafts.
The main functions and role of a servo coupling in a servo motor system are as follows:
Motion Transmission: The primary function of a servo coupling is to transmit motion from the shaft of the servo motor to the load. It connects the motor shaft to the driven load, such as a ball screw, gearbox, or another mechanical component, enabling the motor to drive and control the motion of the load precisely.
Torque Transmission: In addition to motion, the servo coupling also transfers torque from the motor to the load. As the servo motor generates rotational force (torque), the coupling efficiently transmits this torque to the driven load, allowing it to perform its intended motion with the required force.
Misalignment Compensation: Perfect alignment between the servo motor shaft and the load shaft is challenging to achieve in real-world applications. Any misalignment can cause detrimental effects, including increased wear, reduced performance, and premature failure. The servo coupling acts as a flexible element that can compensate for various types of misalignments, such as angular, parallel, and axial misalignments. This flexibility helps to maintain smooth and efficient power transmission even when the motor and load are not perfectly aligned.
Damping of Vibrations: Servo motor systems often operate at high speeds and with rapid changes in direction. These dynamic movements can generate vibrations that may adversely affect the performance and lifespan of the system. A well-designed servo coupling can dampen these vibrations, providing a more stable and controlled motion to the load, reducing the risk of damage or inaccuracies.
Backlash Minimization: Backlash refers to the play or gap between the teeth or components of the coupling when the direction of motion is reversed. Excessive backlash can result in lost motion and reduced precision. High-quality servo couplings are engineered to minimize backlash, ensuring accurate bidirectional motion control in the servo motor system.
Overall, a properly selected and installed servo coupling enhances the performance, efficiency, and reliability of servo motor systems. It protects sensitive components, such as bearings and motors, from excessive loads and vibrations, leading to extended equipment life and improved motion control capabilities.



editor by CX 2023-11-16